Varizoom VZ-Rock
HD Cam Review - April 30, 2010
Key Features
Variable zoom rate rocker
Record start/stop
Focus adjust
Camera power on/off
Camera data
Camera tape review
Small size
Simple design
Affordable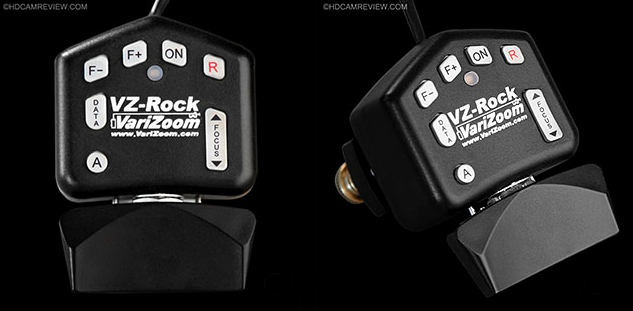 I've been using the Varizoom VZ-Rock to control my Sony Z7U for 2 years. Like most of my purchases I researched this a bit before purchasing. It clamps onto a fluid head handle with a widely adjustable plate. Not all of the buttons work on every camera. You can turn the camera on and off, start and stop recording, and vary the zoom speed. On the Z7U focus can be changed even when in auto focus mode. The zoom rocker has a fairly wide range of movement.
It plugs into a lanc input with a mini type plug. I bought an adapter and 20 foot cable so I can control a smaller non professional camera with a different type of plug. This is explained and shown in the sample video.
When 1st plugged in, or the camera 1st turns on, the VZrock lights up and flashes. While recording a red light is illuminated in the center. Occasionally I hit record and nothing happens. I probably just don't push it hard enough so I've learned to always check to make sure the red light is on if I"m controlling a camera 20 feet away.
I highly recommend the Varizoom VZrock. Just make sure you have the right connection on your camera before purchasing.