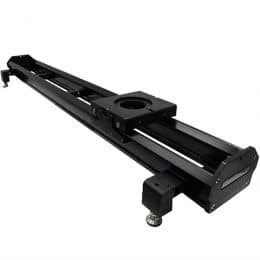 VariSlider VSM1 Camera Slider
This is our most exciting new product in years for serious filmmakers and videographers. The first in a planned series of affordable ultra high-performance sliders, the VariZoom VSM1 spares no expense in quality of design or construction.  Made in the USA from a completely original concept based on decades of motion picture equipment design experience, the VariSlider not only rolls more smoothly and consistently than anything close to its price, it carries extremely heavy loads effortlessly. Whether you're mounting a C100 or a fully-loaded Alexa, the VariSlider will give you absolutely silky motion every time. The motion control slider system can be extended in 4.5 ft increments as far as you need, it can be mounted to tripods (with optional adapters) or overhead rigging, it can be upgraded to motorized/motion control and/or counterweighted tiltable configuration, the track width can be easily increased, and it's essentially future-proof with its clever integrated multi-mechanical interface track design.
Camera Sliders – Varizoom VSM1 series -professional grade sliders capable of effortlessly carrying extremely heavy loads with zero deflection and consistently smooth action under all conditions. Our sliders come with a variety of mounting options and are ready to use out of the case. These camera sliders for sale are extendable and upgradable with motion control features. Zero drag, precision-matched systems perform under all conditions with little maintenance. The VariSlider includes adjustable mount points for flexible positioning anywhere along the track, and it can be supported by any tripod type, C-stand or low-boy stand, as well as overhead rigging in underslung configuration. These camera sliders for sale feature an intelligently designed track system and have a variety of built-in features to accommodate future upgrades and features like motorization, angled operation, and counterweighting. The completely unique design of the VariSlider sets it apart in a sea of copycat sliders, as it was created with one set of goals in mind: superior quality, outstanding performance, and flexible future-proof architecture. Shop for professional video camera equipment online today.