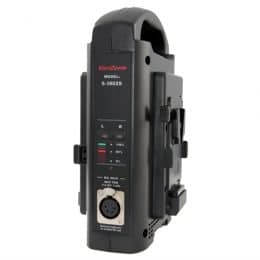 Sony V-Lock Battery Charger
This portable, dual sequential charger is available for Sony V-Lock or 3-Stud mount batteries. 4 pin XLR jack outputs DC 13.8V 3.6A. Lightweight and compact, this charger is ideal for transport. Will charge VariZoom Ni-MH and Li-Ion batteries, as well as some other brands.
Demo Gear Bargains (Updated Daily)
Note: Demo items cannot be returned.
The gear below is discounted because the unit was displayed or demonstrated at a trade show or store, and may have minor cosmetic defects. In some cases the items are previous model designs. (Example: different color, different screws, etc.) Images may differ slightly from the demo items being offered, but functions will be identical. Normal product warranty applies.