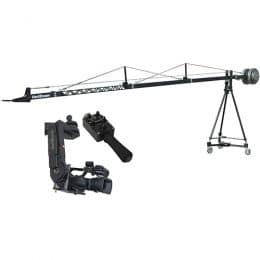 SnapCrane w/ CPJR-K5 remote head – This crane/remote head kit combines the SnapCrane 16 & CPJR-K5 high-performance remote head for instant savings of $500. The CPJR-K5 features a compact video-game type thumb joystick for pan/tilt control, as well as speed, smoothing, deadband and direction controls. The SnapCrane-16 builds to 4 different lengths with no tools and the CPJR head sets up in minutes and performs with the best heads on the market – read below for more detail.
VariZoom SnapCrane – Camera Cranes and Remote Heads
Quickly builds out to 16 feet, allowing high-elevation sweeping shots. Using high-quality stainless hardware and precision-machined dovetail-locking sections, the SnapCrane is outfitted with the best in materials and features. We stock 9ft, 12ft, and 16ft versions to meet any filming requirement, and all include our custom heavy-duty dolly and tripod. Replacement parts are readily available and we offer excellent customer support long after a purchase is made.
VariZoom's incredibly versatile SnapCrane is in a class by itself with our fast yet secure dovetail joint assembly, compact modular design allowing 4 different lengths, and painstaking quality control – no expense was spared. Designed for years of trouble-free operation and it has the fastest tool-free setup and longest reach of any crane in its price category. Proudly manufactured in Austin, TX with attention to every detail, this is a truly professional tool that will last generations with proper care.