Description
Below: Machining the hub of our crane tripod from aluminum billet. For strength and security reasons, we don't use molded parts or telescoping legs.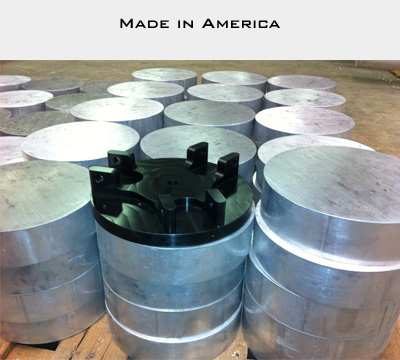 VZSNAPCRANE16 camera cranes VariZoom's incredibly versatile SnapCrane is in a class by itself with our fast yet secure dovetail joint assembly, compact modular design allowing 5 different lengths, and painstaking quality control – no expense was spared on this professional camera jib system. The SnapCrane was designed for years of trouble-free operation and it has the fastest tool-free setup and longest reach of any camera crane in its price category. Proudly manufactured in Austin, TX with attention to every detail, the SnapCrane is a truly professional tool that will last generations with proper care.
Every SnapCrane kit includes the dolly, tripod, and carrying case so you get a turnkey system that's been matched, assembled, and functionally tested prior to shipment. Quality, performance, and safety are all taken very seriously with the SnapCrane, so we make no compromises in materials or labor. There are less expensive systems on the market, but none of them come close to the build quality or versatility of the SnapCrane.
What are the advantages of the SnapCrane over the QuickJib? Longer horizontal reach (15'6″ vs 9'6″ max), higher vertical extension (18'3″ vs. 13'9″ max), superior stability & rigidity, greater flexibility (4 lengths vs. 2), better counterbalance mechanism, better pan/tilt base, upgraded hardware.
Jib Arm / Crane Body – Crane sections made from stiff, lightweight tubing are precision machined and powder coated before assembly and quality inspection. The upper extension section has a truss pattern cut into the sidewalls to retain strength while minimizing weight and reducing air resistance in light breezes (caution: never use a camera crane in windy conditions). The heavily reinforced, cable-tensioned design of the SnapCrane allows it to reach farther and higher without any sacrifice in stability or performance.
Pan/Tilt Base & Brake System – Our ultra-smooth, high-capacity pan/tilt base is built to exacting standards with oversize fasteners, sealed bearings, and beefy construction for a remarkably stable fulcrum point. Superior design, proud craftsmanship, and the finest components set this pan/tilt base apart from those used in other crane systems (it's also a significant upgrade over the QuickJib's). Our brake system utilizes a heavy-duty plate on the crane pivot section and a variable drag mechanism built into the right stator of the pan/tilt base. This system was designed to add significant variable drag and hold any position, but it's forgiving enough to slide under extreme force that could otherwise topple a jib with a locking-brake system.
Machined Dovetail Joints – Dovetail joint assembly allows for quick, extremely secure no-tools connection with redundant safety locks. A hefty stainless steel latch (w/ internal safety catch) clamps the joint from above while a secondary thumbscrew assures a tight and secure fit from below.
Stainless Quick-Release Pins are used at the pivot points for quick assembly and they are attached by lanyard to prevent them from ever being lost.
Cables and Couplings – Our modular cable system boosts crane stability and ridigity while keeping overall weight down by allowing us to use a single line of compact, lightweight tubing for the main arm. The superior-quality cable tensioning system keeps the SnapCrane taut, rock solid, and easy to control. The smooth-coated, corrosion resistant cables are easy to handle and will last a lifetime. Marine-grade stainless steel hardware is used exclusively throughout the SnapCrane, ensuring long-term field reliability.
Crane Case – Comes standard with VariZoom's new lightweight, heavy-duty Soft Case (hard case optional). This case has three reinforced handles (middle and both ends) along with a hefty shoulder strap, thick padding, and rubber feet. It can be used for other jibs, as well. Interior approx. 58″x11″x10″; Exterior 59″x12″x11″; Weight 4.9 lbs. Also available for purchase is the optional rolling hard case, for the ultimate in protected transport. Optional Hard Case: Exterior 63″ x 15″ (round); Interior 58″ x 12″ (round); Weight 20.5 lbs.
DCR100 Dolly – Our heavy-duty dolly has an ample spread, rugged solid-rubber wheels, foot brakes, and a positive leg-locking system that securely captures our TCR100 crane tripod. Includes padded carrying case.
TCR100 Crane Tripod – Our custom TCR100 is the only tripod we recommend for use with any crane, no matter the brand. We recommend you never use a telescoping or collapsible tripod under a crane, no matter how small. When supporting an expensive camera on a jib elevated above other valuable equipment or people, it is simply a no-brainer to eliminate all risk and use a single-section tripod instead of a telescoping type.
The TCR100 is designed specifically to be used with our DCR200 dolly.Safety and strength are top priorities: the TCR100 uses a solidmachined baseplate (not molded), specialty heavy-gauge tubing, andoversize leveling feet for an ultra-stable design that will never falter or fail when used properly with the DCR200 dolly. With anodizedaluminum, stainless steel fasteners and solid brass bushings, theTCR100 will last a lifetime.
16′ Film & Video Crane incl. VZ-TCR100 Tripod & VZ-D200 Dolly
Crane Configuration – 18'3″ Max Cam Ht. / 16'6″ Vertical Movement
Possible to build all 4 length configurations
TCR100 Tripod
Custom Free-Wheel Dolly w/ outriggers
Crane Soft Case – Soft Case for easy, protected transport