Description
Below: Machining the hub of our crane tripod from aluminum billet. For strength and security reasons, we don't use molded parts or telescoping legs.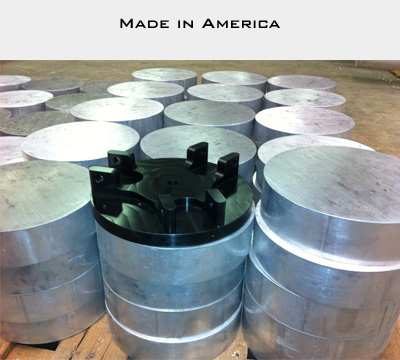 LIGHTLY USED, MINOR BLEMISHES, FULL WARRANTY – VZQUICKJIBKIT camera cranes VariZoom's QuickJib represents the perfect balance of quality and economy in a well thought-out professional jib arm design. This is the answer for those who love all of the options of the SnapCrane, but aren't ready to spend that much. Quick Jib video camera cranes give you many of the features of the Snap Crane at a more affordable price. With the Quick Jib you get an economical, but secure captive clamp system for extending the jib, along with lanyard-attached stainless aircraft pins for quick assembly. The QuickJib is a professional, tool-free jib arm that assembles rapidly and safely. The QuickJib, like all of our products, was designed for years of trouble-free, reliable operation in the field. With attention to every detail, we have created a professional camera crane that will last generations with proper care.
Starting with the simplest package (jib only) up to our complete system (recommended), which includes dolly and tripod legs, you'll see that we consider safety to be the highest priority.
Jib Arm – The QuickJib selectively uses industrial powder coating and anodizing for durable cosmetics, with stainless steel fasteners throughout. The slim QuickJib outperforms the competition by having less air resistance in breezy conditions than jibs utilizing a four-arm support system (never use in high-wind conditions). The QuickJib video camera crane will mount to any 100mm tripod, although we recommend only using non-telescoping legs for safety.
Additionally, our quick extension kit attaches in minutes with absolutely no tools, as opposed to more cumbersome systems that require multiple tools and bolts to attach their extensions. The extension kit mates to the standard QuickJib with our Captive Clamp Joint system, which uses two ergonomic, high-torque hand knobs to compress the captive clamps, assuring the joint is rock solid.
Brake System – VariZoom's Brake system utilizes a heavy-duty plate that is securely mounted to the pivot section. Brake compression system is built into the left stator of the pan/tilt base and designed to add significant variable drag, but forgiving enough to slide under extreme force that could otherwise topple a locking-brake jib system.
Locking Pins – Locking stainless aircraft pins of high quality and strength are used at the pivot points, and they are attached by lanyard to prevent them from ever being lost.
Tilting Mechanisms – Camera platform and tilt base join to the jib arm with stainless aircraft pins that insert through sealed radial ball bearings at the tilt base and high-performance sleeve bearings at the camera platform, resulting in silent, smooth motion. The camera platform also has a built-in spirit level for quick reference and adjustment.
Telescoping Counterweight Section – Telescoping weight arm adjusts up to 3 feet for tremendous flexibility. Extend the arm to reduce the amount of weight needed, shorten it to work in tighter spaces, or simply adjust it to fine-tune the counterbalance.
DCR100 Dolly – Our heavy-duty dolly has an ample spread and a positive leg-locking system that securely captures our TCR100 crane tripod.
TCR100 Crane Tripod – Our custom-built crane tripod is the only tripod we recommend for use with any crane, no matter the brand. We recommend you never use a telescoping or collapsible tripod under a crane, no matter how small. When supporting an expensive camera on a jib elevated above other valuable equipment or people, it is simply a no-brainer to eliminate all risk and use a single-section tripod instead of a telescoping type.
The TCR100 crane tripod is machined and built in-house and specifically designed to be used in combination with the DCR100 dolly. Safety & strength are top priorities: the TCR100 uses a solid machined (not molded) base-plate and fittings for strength and precision, specialty heavy-gauge tubing, and oversize leveling feet for an ultra-stable design that will never falter or fail when used properly with the DCR100 dolly.
VariZoom jibs are professional tools with quick setup, long-term reliability, and outstanding performance. Look closely to see the finer details of our thoughtful design, including tool-free assembly and stainless quick-release pins attached by lanyard so they'll never be lost. Scroll down to see how VariZoom takes your investment seriously.
New: The QuickJib comes with VariZoom's new lightweight, thickly-padded Soft Case. This heavy-duty case can also be purchased separately, and can be used for other professional camera cranes. Exterior 59″x12″x11″; Interior 58″x11″x10″; Weight 4.9 lbs. Hard Case is an optional upgrade (63″x15″, 20.5 lbs.)