Description
Reviews

Great for GoPro
About Me: Business Owner, Family Traveler, Hobbyist, Professional Artist
"Cant say enough good things about this product. It's compact and useful in so many ways. If you have ever tried filming freehand with a GoPro you know what a pain it is the camera is to small to handle well. You can't press a button much less hold steady because it is so small.
The Stealthygo is wonderful in every mode it was demonstrated in the video I watched before buying. Stabilizer, monopod, handheld camcorder mode, tripod mode and self mode. I did not order the longer monopod but I probably will soon. The monopod as it is is great for shooting while sitting and when I am standing I use the 3 point shooting configuration. That is what is so cool about this item is it changes in seconds just like advertised."
-Sandy (Florida, coast)

StealthyGo Stabilizer

About Me: Hobbyist, Photographer, Sportsman, Videographer
Verified Buyer
"I had been looking for something to help me stabilize my cameras for some time and when i saw this i ordered one right away. it works great with my DSLR, my Video Cam and my GoPro. i like how easy it is to use and configure into several different positions and mountings. i haven't tried it under water yet but that's coming. i would recommend this to anyone that is wanting a more stable "hand held" support for most all cameras. Thanks…. great concept for sure."
-Roadkill (Northern California)

Very unique
About Me: Business Owner, Hobbyist
"I use this in handheld mode for shooting video and in this mode you can still set down with camera attached. Short monopod mode is perfect length to use while sitting down and also " point shooting mode also excellent. " point shoot mode is also same as tripod mode which is also great to position shots with timer allowing you to perfectly frame a shot. Overall very pleased and for very little money it is a very good deal."
-Very pleased Traveler (from NY. NY)

What a difference
About Me: Hobbyist
"I urge anyone that shoots video or wants to shoot video with a point and shoot style camera to get the Stealthygo. The difference in how your camera handles on the Stealthy is remarkable compared to without it.
I have never taken a good shake free video before with my little camera because I can never hold it comfortably or well with one hand. But with my Stealthy it is ergonomically sound and with one hand in camcorder mode it is smooth shake free and I don't have that familiar noise of my finger tapping and rubbing near the built in mic. Big difference!"
-Beach video guy (Clearwater, Fl)

Absolutely Awesome!!
About Me: Business Owner, Hobbyist, Professional Artist
"I use this with my GoPro and Canon powershot.I love that it does so many things and it was only about $[*]. I have only used a couple times now but I don't think I will ever take picture again without it."
-Happy Birthday (Los Angeles)
Operation Modes
Stabilizer
In monopod mode, the StealthyGo may be used as a motion stabilizer. By extending or shortening the monopod to make the camera and device center of balance at, or close to, the rubber grip handle allows for the best acquisition in motion. Also with the ultra light composite and compact size users can get into tight areas and sustain longer shots with less stress.
3-Point Shooter
In this mode the monopod stock is oriented vertically, allowing you to press it against your chest for better stability than pure hand-held shooting
Hand-Held
Fully collapsed, the StealthyGo can be used as a hand-held shooting rig, or just as a handle to carry your camera around when not in use
Tabletop
In 3-point configuration, the StealthyGo will free-stand on a table top or other flat, level surface. You can also use this mode to capture shots from close to the ground
Monopod
Twists grips on the tube assembly loosen, extending the StealthyGo into a monopod for better stability and reduced fatigue when shooting from a fixed position. Alternatively, the camera can be reversed, effectively converting the StealthyGo into a "selfie" pole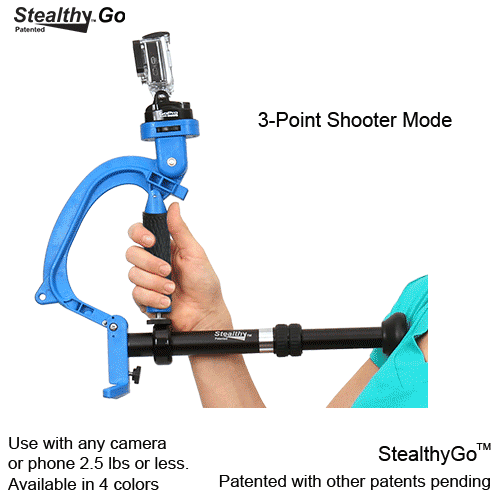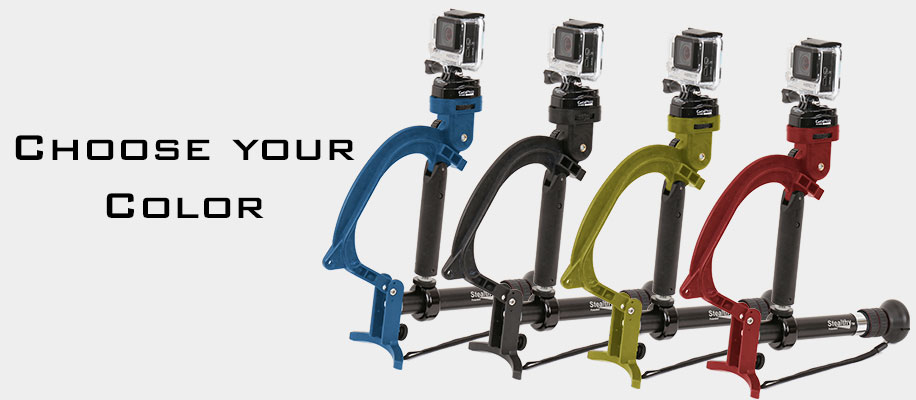 Choose your color – blue, black, yellow, or red. You'll enjoy your colorful camera accessory.