Description
STEALTHY Triple Award Winning Multi Purpose Camera Support
Stealthy™ is made for handling cameras up to 3 lbs., but we also offer the
Stealthy™ WT5 for cameras weighing up to 5 lbs. The Stealthy's™ ability to quickly convert between multiple support points makes it one of the most popular and versatile film accessories on the market. There is only a limited inventory available on this handheld camera stabilizer, so shop while you still can! Have a steady camera all day, every day with this amazing product. If you have questions on availability or want to know more about the Stealthy™ handheld camera stabilizer, please call 512-219-7722 or contact us online right away!
Order now. Shipping daily while supplies last!
From Facebook.com/VariZoom:
D. Slack
Shooting Hangtown today with my new Stealthy. Great product guys!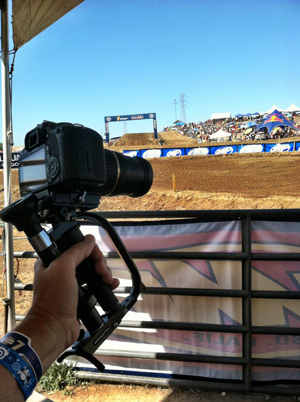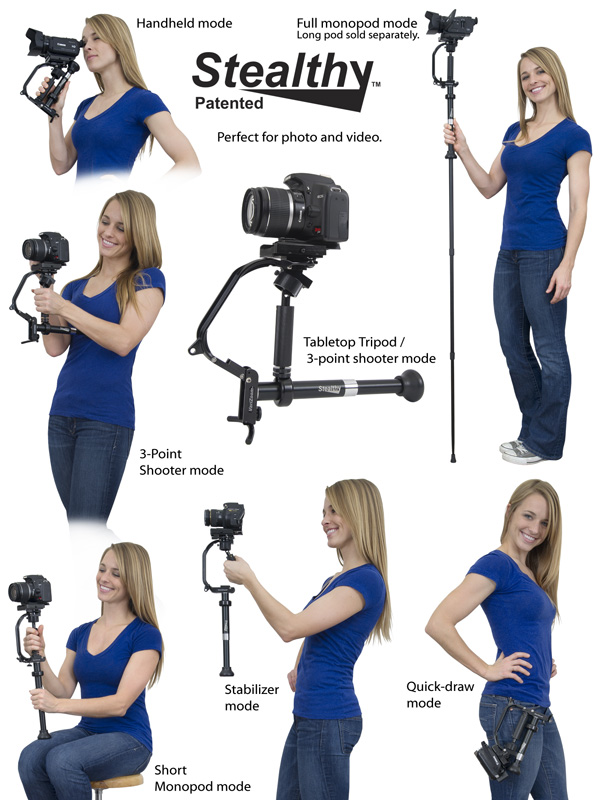 To order yours now while supplies last, click "Add to Cart" above.
Customer Reviews
I just wanted to let you know I got the replacement lever for my Stealthy today and I am shocked it arrived so quickly. Your response on this was fantastic! While there was nothing wrong with the previous version this new one you designed is better to work with. Kudos all around! I'm taking my Stealthy with me this weekend to Wizard Word here in Chicago plus Flashback Weekend. I plan on taking tons of pictures and the Stealthy will be with me the whole time and I couldn't be happier. I just love it so much!
Thank you again!
I love my Stealthy. I shoot Sports and other events of my children as well I also shoot most videos for all of my family and friends. The Stealthy's versatility is what got my attention and I use every mode.
This replaced my stabilizer and my 3 point shooter and the bonus it that it is also a convenient table top tripod. The tripod mode is not just useful as a tripod but it is useful because you can set it down all as one unit with the camera and device.
Monopod is lightweight and works well but it is not heavy duty.
The hip clip is incredibly convenient.
It takes a little getting used to the lever locks but after a few uses changing modes it is easy to use.
Best camera support ever purchased. Very easy to setup and use out of the box. The belt clip was also very handy. I tried on both Canon EOS SL1 DSLR and Vixia M40 video cam. Very easy to balance for use as stabilizer. I used to have the FlowPod and SteadyCam, and Stealthy is so small and compact.
The paper instructions refer you to a video on youtube for stabilizer set up which after watching made it easy to do.
I'm usually skeptical of jack-of-all-trade type tools but the Stealthy has broken the mold for me. I've used this with both my Panasonic HDC-HS900 and my AG-HMC40 and it works well with both of them. Naturally, things get a little heavy with the HMC40 since you have to add the extra weights to properly balance it but it isn't that bad. One thing I wasn't looking forward to was trying to properly balance the camera for stabilizing but it was surprisingly easy. I've been able to quickly set the Stealthy up for stabilization mode for both cameras in a short amount of time with very little fine tuning. I have a cheapy stabilizer I bought[*] that I have yet to get properly balanced so the Stealthy is a godsend!Switching between modes is quick and painless. I find myself using every mode on every shoot. Having the belt hook is just as described . . . it's much better to have a camera on the hook than on a strap around your neck. Just be careful not to walk your camera into obstacles by not remembering it's on your belt!My only negative for the Stealthy is that one of the tightening screws for the main swing out piece isn't protected . . . by which I mean that it is possible to screw it all of the way out to be lost if you're not paying attention. This happened to me at a street fair and it was sheer luck that it fell onto a pocket flap of my cargo shorts and I felt it before it fell on the ground. They should have put some kind of retainer ring on it to not allow it to be able to come all of the way out.All in all, this was a great purchase. If you have a bigger camera just order the extra weights and the monopod when you order the Stealthy. It'll save you from having to wait for them to be delivered when you inevitably order them anyways.
Stealthy is very portable for shooting in rough terrain and an excellent 3 point shooter.
What are people saying about the Stealthy? What will it replace?
M. Blazecka
Will replace Manfrotto tripod and monopod. Gorrila tripod. I really need all of these, plus motion stabilizer!
Will
Shoulder mount, monopod, dslr cage with handle, and Pro Arm jib for smooth pans and following action. (which would save a huge amount of time in setup and tearing down the jib.)
R. Fleenor
all tripods and dollys we own at school. This will go great with my monopod. Great gear. Thanks
H. Malik
Steady motion stabilizer,
3-point shooter,
mini monopod,
full monopod,
Short monopod
tripod,
tabletop tripod,
Handheld,
Quick draw
G. Falls
Replaces almost everything …..
K. Eitel
Monopod, tripod, table-top tripod, stabilizer, brace
M. Madigan
Cool!