Description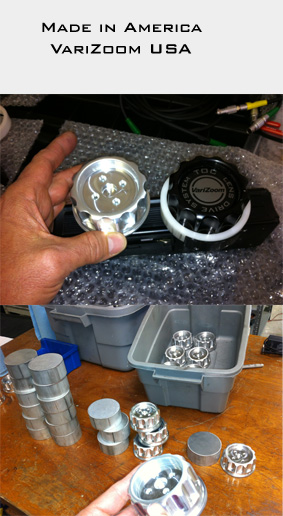 VZTOC-ZFI3
The VariZoom TOC-ZFI3 (Zoom/Focus/Iris 3-channel) system brings cinema grade lens control into the realm of the affordable-to-own. This powerful, intuitive wireless follow focus system will pay for itself quickly and expand the capabilities of your productions. Although the price is relatively low, no corners were cut in the manufacture and design of the system. Expensive motor cores are painstakingly assembled into our zero backlash proprietary drive system, resulting in a smooth, quiet, highly dynamic operational range that will creep or blast off with equal grace.
The compact receiver/motor driver is, on the surface, a no-frills black box, but deep down it's the transparent heart of the wireless follow focus system, as it must execute all motor commands with unerring precision and authority.
The highly intuitive touchscreen-controlled hand unit is loaded with features that make it easy to use and powerful in operation. The compact force joystick allows superb command of zoom with 100-step speed and smoothing scales and true pressure-sensitive control. The custom machined fluid-drag focus knob is incredibly robust but delicate in action. A defeatable LED backlight ensures you'll always be able to hit the marks regardless of lighting, while the parametric software allows great flexibility in setting the range and sensitivity of the knob response. The iris slider also includes a defeatable LED backlight and parametric software.
The entire wireless follow focus system fits into a compact, waterproof hard case that will take just about anything you can throw at it, while our 2-year warranty and exceptional customer support offer peace of mind.
3-Channel Capable Wireless Zoom, Focus & Iris Lens Drive System (3 motors)
3-Channel Hand Unit, 3-Ch Receiver, 3 Motors w/ Universal Gear Sets
Touchscreen Control Menu w/ Auto or Manual Calibrate Modes
Force-Sensitive Thumb Control Offers Superior Command of Zoom Speed
Wireless Range to 1000′, Wired Option w/ Purchase of Cable
Customizable Knob & Lens Limits for Scaling (expand or contract control range)
Variable Smoothing allows instantaneous response or soft start/stop
Variable Backlash compensation for sloppy lenses
Onscreen Help Menu for troubleshooting
Redundant backup pushbuttons for operating GUI
Defeatable LED backlighting for focus marker ring and iris marker strip
Signal strength LED indicators for wireless
Robust fluid drag hand knob for focus
Auto-calibrating motors for quick setup on any lens
Manual calibration mode for lenses without end stops
Record start/stop – cable must be purchased and connection type specified
Power compensation setting for looser or stiffer lenses
"Reset All" one touch button to clear all settings
Battery monitor gauge
Lanyard for wrist/neck included w/ hand unit
Waterproof extreme-duty hard carrying case
Universal gear set
Rod clamp for 15mm/19mm rods (19-15 step down bushing included)
2 year warranty
Rechargeable Canon BP-927 type battery included w/ universal travel charger
High power custom VariZoom motors utilize expensive drive cores and proprietary gear train
Receiver can be powered from 12-24VDC using D-tap, XLR, Lemo, Fischer or other camera DC outputs –
Customer must specify receiver power cable (XLR, D-tap, etc.) – 1 cable included w/ system at no charge
Integrates with Cinema Pro or Cinema Pro Jr motion control heads for full 5-channel repeatable camera control
Rentals:
Lightstone Rentals – Glendale, CA – 818-730-6054 cell – 818-241-2203 office
Omega Broadcast – Austin, TX – 512-251-7778